Bud Grossmann's
FINE PHOTOGRAPHY

Information about purchasing photographs is
near the bottom of this page, after
the matted photo of the rose.
| | |
| --- | --- |
| | For more than four decades, Bud Grossmann's photography has brought pleasure and value to collectors of fine art. His work has earned awards and has been published and exhibited throughout the United States and in many foreign countries. |
| | |
| --- | --- |
| Bud has been serious about making photographs since 1967, when he was a high school senior. His first good camera, a gift from his father, was a Ricoh twin-lens reflex (in which he typically used Tri-X film). From 1970 until 2010 Bud shot photos with a manually adjustable 35mm Miranda or Pentax (usually with Kodachrome 64). Currently he is using a Canon G12 digital camera. | |
MINIATURE FINE-ART PHOTOGRAPHS
(Strathmore Greeting Cards)
Some of Bud's images, displayed in the galleries on this Web site, may be available on white, acid-free, deckle-edge, Strathmore-brand cards. A typical photo on a card is two-and-a-half or three inches wide, accented by a colored, thin border line. Unless a card includes text below the photograph, the art is signed and dated in pencil. The date appearing with the artist's signature is, in most cases, the year the photo was first taken, not necessarily the year the print was made.

These textured-paper, heavy-stock greeting cards are five by seven inches; they fit a standard picture frame. Unless otherwise noted, each card is blank inside and is accompanied by a matching envelope. Mark K. Wilson and a few other faithful collectors may purchase cards for three dollars each, F.O.B. Rio, Wisconsin. Other persons interested in prices are invited to inquire by phone or e-mail. Photo cards are printed with Hewlett-Packard dye-based inks; they are not intended for display in direct sunlight and are not warranted against fading or a change in color.
PHOTO ENLARGEMENTS
| | |
| --- | --- |
| | Buy a card and send it, and you'll effortlessly give joy to someone dear. But if you are ambitious enough to go to a frame store to choose a mat and frame, then you might as well "go all out" and choose a "full-size" photo-print. Many of the photographs on this Web site may be available, unmatted and unframed, on Epson En­hanced Matte (archival) paper. Each enlarged photograph is personally printed by the artist, using an Epson 2200 printer with Epson dye-pigment inks. |
| | |
| --- | --- |
| Many of these photos are designed to fit a standard 8 x 10 frame with a mat window pre-cut to 5 x 7. For reasons of artistic preference, however, Bud has cropped some of his photo images to a non-standard size. A typical rectangular photo is about nine inches on the longer dimension. To do justice to this artwork, you will want to visit a frame shop in your own community to have your print custom matted and attractively framed. | |
---
Photos are sold only by special order.
Inquire via e-mail about particular
photos and to initiate negotiations
of price and payment method.

Please note:
The artist's copyright imprint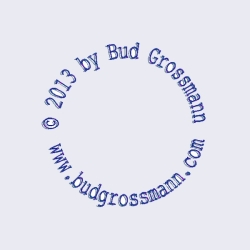 will not appear on the photos you buy.
At this time, products sold on this Web site are available only in the U.S.A.
Shipping & Handling will be included in the purchase price.
Tax will be added to Wisconsin orders.
Most orders are shipped by first class U.S. Mail within five business days of Bud's receiving your payment. However, Bud Grossmann personally prints each card or enlargement, and the artistic process cannot be rushed. He will advise you of his estimated shipping date.
Your Satisfaction is Guaranteed. If something you buy from this Web site fails to meet your expectations, let us know within thirty days of the date you receive it, and we will arrange for a replacement or refund. Please read the details of this limited warranty.
Prices and policies are subject to change without notice.
---